January 6, 2021
By Veronica Silva Cusi
The Philippine Reporter
LJI Reporter
Wanting to share a little of the blessings from the quality of life abroad, some Filipino-Canadians have come together to send help to victims of Typhoon Odette (international codename: Rai) last Christmas.
Groups such as Migrante Canada, the University of the Philippines Alumni Association of Toronto (UPAAT) and the Philippine Advancement Through Arts and Culture (PATAC) have organized some fundraising events or simply called out for help on behalf of the thousands of individuals affected by the typhoon.
Migrante Canada, a member of an international coalition helping out migrants and their families, have raised almost $7,000 as of January 3. They relaunched SAGIP Migrante last December in cooperation with Consortium for People's Development – Disaster Response (CPD-DR), consortium of organizations helping in disaster relief and rehabilitation.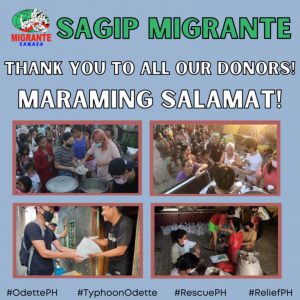 SAGIP Migrante has been at the forefront of the group's efforts to extend help to kababayans back home. Last year, Sagip Migrante also raised funds for those affected by the Taal Volcano eruption and Typhoon Rolly. When super typhoon Haiyan struck in 2013, claiming 6,000 lives, Sagip Migrante also helped.
Migrante Canada secretary-general Stefanie Martin told The Philippine Reporter that for Typhoon Odette they are working with allies and network members, such as BAYAN (Bagong Alyansang Makabayan/New Patriotic Alliance) to raise funds.
She added that Migrante Canada also supported the relief efforts of BAYAN Central Visayas earlier on when the typhoon hit the Visayas and Mindanao regions. BAYAN Central Visayas assessed the situation and the needs of those affected. They distributed 1,864 relief packs of food, masks, hygiene products, clothes, blankets and towels in Metro Cebu. BAYAN Central Visayas worked with Alibyo Cebu-Ayuda Network and UCCP (United Church of Christ in the Philippines) West Visayas Jurisdictional Area in this effort.
According to the website ReliefWeb, a humanitarian information service by the United Nations Office for the Coordination of Humanitarian Affairs (OCHA), Typhoon Rai affected 16 million people, with 2.4 million needing assistance. Funds totalling $107.2 million are requested in the relief efforts.
Martin added that Migrante International and its global chapters such as Migrante Canada have been working with the Consortium "as they are directly connected with the various relief and disaster response in different regions in the country."
"The delivery of support from abroad is more guaranteed especially after the typhoon as most of the communications lines and electricity are not yet restored," Martin added.
On its website, Migrante Canada said they "continue to urge and demand the Philippine government to release calamity funds and to respond quicker to provide immediate relief and assistance to the victims of Typhoon Odette."
UPAAT said in an email to members (this reporter included) that they have launched the "Sagip Pilipinas program, a fundraiser to benefit the victims of this disaster in Antique." They said they are working with University of the Philippines Visayas Student Council to deliver relief efforts to the Philippines.
Also last December, PATAC held a Tulong Paslit (Help a Child) virtual benefit concert. The Eventbrite description stated that "a group of concerned Filipinx Canadians and local artists came together to raise fund of the Task Force for Children of the Storm (TFCOS) Philippines."
—————-
ERRATUM:
This story has been amended to correct the role of Stefanie Martin in Migrante Canada. In the story on January 7, 2022 I misidentified her as "chairperson." She is, in fact, the secretary-general of Migrante Canada and Danilo De Leon is the chairperson.. My sincere apologies for the oversight.
– Veronica Silva Cusi, Reporter