After filing a National Labor Relations Board complaint, a group of Jollibee Workers and community members delivered a letter to management to demand reinstatement and backpay.
This is the first ever community-supported worker protest in a Jollibee location in North America.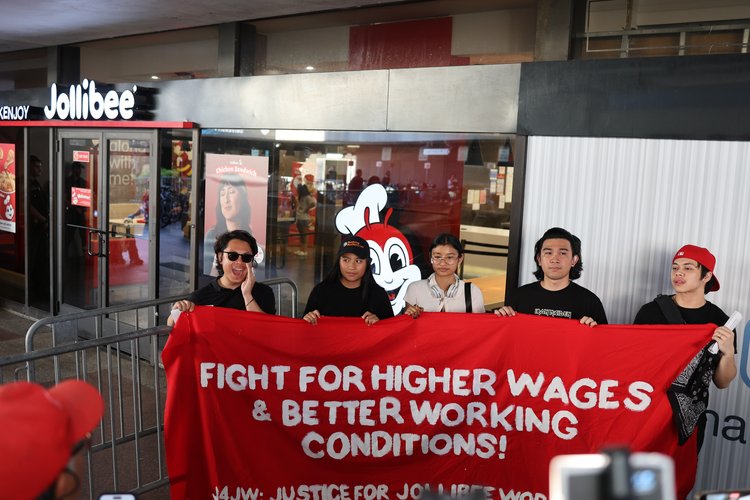 FOR IMMEDIATE RELEASE: July 6th, 2023
Media Contact: Patrick Nevada, [email protected], 808-388-8438
Former Jollibee Workers Protest at Restaurant after Being Illegally Terminated
Jersey City, New Jersey – Former Jollibee workers protested at the popular Philippines-based fast food restaurant at Journal Square in Jersey City, New Jersey, after being illegally terminated for organizing for higher wages and a fairer workplace. Workers attempted to deliver a letter to management demanding reinstatement, backpay, and a public apology from Jollibee Food Corporation before they were forcibly removed from the restaurant by police.
The protest and letter delivery occurred on National Fried Chicken Day, one of the busiest days of the year for Jollibee workers, during which many Jollibee workers have reported increasingly dangerous working conditions and maltreatment from management.
The action occurred a week after the workers filed a formal complaint to the National Labor Relations Board (NLRB) for unfair labor practices against Jollibee, namely the February 20th termination of nine employees in retaliation against their organizing efforts to petition management for higher wages and better working conditions.
"It is disheartening to witness the abuse of power and the suppression of those who dare to stand up for what is right. Yet, I refuse to remain silent, for silence only perpetuates the cycle of injustice. We do our jobs right and we received this– getting laid off because we want a better workplace, holiday pay, and a $3 wage increase to support ourselves and our family.", said Keyser Garganera, Former Jollibee Worker
"I trusted that a big company like Jollibee who… is loved and supported and seen as a representation of… back home to many Filipinos would be a place that value workers and their rights. Jollibee keeps on getting bigger and richer but at the expense of workers.They need to stop with their lies and give dignity to workers' rights towards equal pay across location," said Mary Taino, Former Jollibee Worker
"We are here today to expose the wrongdoings of this company, for everybody to hear our voices, and to alert everybody to look out for industries like this. We greatly appreciate the help that's been given every step of the way and we will ensure that this will be our win!" said Patricia Bui, Former Jollibee Worker
"[After we were laid off,] my respect for the Jollibee was gone because of what they did to me. I got depressed and isolated… while my co-workers were struggling with their jobs due to increased workload. They needed us like we needed them. For all fellow workers who have experienced or currently experiencing similar struggles, we want you to be brave and take action. We hope that you will join us. Let us unite as Jollibee workers," said Vincent Cruz, Former Jollibee Worker
Attorney Jackelyn Mariano of Mission to End Modern Slavery (MEMS) remarked that "concerted activity is protected under federal labor law. The termination of these workers was clearly an attempt to undermine their efforts to improve their workplace conditions. Jollibee's Journal Square store proceeded to hire new workers within two weeks of terminating these workers."
The workers are supported by numerous community groups including Pilipinos Organizing for Worker Empowerment and Rights (POWER). "Jollibee claims to be a family-oriented company saying they have a 'warm and caring' work environment. In reality, the conditions in the stores create tremendous stress for workers and their families," said Chris Phan of POWER.
Jollibee workers in the United States, the Philippines, and across the globe have reported labor issues such as wage theft, chronic understaffing and scheduling issues, misclassification of workers, and worker mistreatment despite the company making record profits.
Jollibee workers at the Jersey City location experienced similar labor issues, prompting them to take action for better working conditions, only to be met with surveillance, harassment, and eventual termination by management.
The action is the kick off event of the #Justice4JollibeeWorkers campaign. It was preceded by community members leafleting across Jollibee locations in New York, New Jersey and Pennsylvania to spread awareness about what happened to the workers at Journal Square.
The Filipino-based fast food chain restaurant is set to open 500 stores in North America in the next five to seven years, adding to the over 6,300 stores across the globe. The chain made $31 million in profit in the US in 2022, with 40% of their total revenue coming from overseas. Despite this growth, workers are reporting deteriorating working conditions and harmful work practices.
About the Justice for Jollibee Workers campaign. The Justice for Jollibee Workers campaign is an effort led by workers at the Jollibee Journal Square branch who were illegally terminated for organizing for higher wages and better working conditions. They are supported by community members and labor organizations in their fight, and encourage all workers at Jollibee locations across the globe to organize with them.
###
(https://www.justice4jollibeeworkers.com/blog/j4jwlaunchpr)