November 29, 2021
By Veronica Silva Cusi
LJI Reporter
The Philippine Reporter, Canada, December 03, 2021
Overseas Filipino workers and migrants from across the globe on Thursday presented their 10-point agenda that they want candidates in the 2022 elections to consider in their platforms.
In a press conference hosted in Manila by Migrante International, overseas Filipinos worldwide urged political aspirants — the national candidates in particular — to help protect their rights, extend them more assistance, and relieve them of financial requirements imposed on them to work abroad.
The 10-point agenda is as follows:
1. Provide immediate cash aid (ayuda), free repatriation, and support for migrants and their families in view of COVID-19.
2. End illegal recruitment and human trafficking, particularly for women, and hold those found guilty accountable.
3. Increase the budget, including the General Appropriations Act (GAA), for government services for migrants, such as overseas absentee voting (OAV) and legal services of the Department of Foreign Services and Overseas Workers Welfare Administration (OWWA).
4. Save Mary Jane Veloso, a death row convict in Indonesia, and other Filipino death row convicts by giving them free legal services.
5. Open embassy, consulate, and the Philippine Overseas Labor Office (POLO) on days when needed, such as weekends, and in areas where there are Filipino communities in countries, territories, and states.
6. Provide services, health benefits, and security of tenure and protection for seafarers
7. Implement free, quality, and comprehensive public health services.
8. End extortion and forced and excessive fees, such as OWWA membership, Overseas Employment Certificate, and Philhealth premium, Social Security System premium and other fees imposed on migrant workers.
9. End red-tagging, militarization, human rights violations, and fascism, junk the Anti-Terror Law, abolish the National Task Force to End Local Communist Armed Conflict, and continue with the peace talks.
10. Abolish the Philippine export labour program, and "No" to the Department of Overseas Filipinos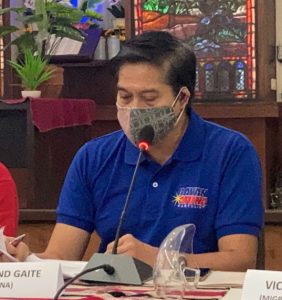 Bayan Muna Party List Representative Ferdinand Gaite. (Photo supplied)
Speaking at the worldwide press event via Zoom from Calgary, Alta., Migrante Canada chairperson Danilo Deleon called for an end to illegal recruiters who "prey on vulnerable Migrant workers desperate to go abroad to work and then find themselves in debt even before they leave the Philippines because of illegal recruitment fees."
Migrante International chairperson Joanna Concepcion, speaking from the Philippines, said the agenda was a result of regional consultations from kababayans in the Luzon, Visayas and Mindanao, and national consultations held in November.
She said that from the consultations, many issues and concerns facing the overseas Filipino sector were raised. She said the 10-point agenda is a call to challenge presidential and national candidates in the 2022 elections to respond to OFWs and Filipino migrant groups' demands.
Migrante Canada told The Philippine Reporter that they participated in the global meetings and consultations, including budget consultations where they were able to raise issues that affect kababayans in Canada.
Clarizze Truscott, vice-chairperson of Migrante Canada, said there were meetings of global chapters this year, and they participated in budget consultations with the Department of Foreign Affairs. Migrante Canada also covered issues about OAV and the needs of consular services in Canada "and pointed out where the gaps are."
"We have had online global meetings and consultations since August with Makabayan Bloc representatives especially with Rep. Ferdie Gaite on OAV and the national budget for 2022 wherein we raised the issues and concerns from our respective regions or countries," said Stefanie Martin, Migrante Canada secretary-general.
Migrante International and their alliance urged Filipinos in the Philippines and abroad to consider candidates who will include these demands in their election platform in the 2022 national and local elections in the Philippines.
Atty. Neri Colmenares, senatorial candidate and former Bayan Muna Party List representative, and Party List Representative Ferdinand Gaite of Bayan Muna joined Migrante International in the press event in the Philippines.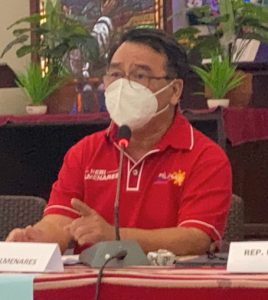 Senatorial candidate and former Bayan Muna Party List Representative Atty. Neri Colmenares. (Photo supplied)
Colmenares urged voters to consider candidates who have the interests of OFWs in their campaign platforms. "Kung walang konkreto na program (para saw OFWs), huwag maniwala (If there are no concrete programs for OFWs in the campaign platform, don't believe in the candidate)," said Colmenares, a human rights lawyer.
However, more than the campaign platforms, he urged voters to consider the track record of candidates in supporting OFWs.
For his part, Rep. Gaite said Bayan Muna and the Makabayan bloc have been at the forefront of helping OFWs and their families and have been consulting with them even before the November consultations that resulted in the 10-point agenda.
Migrante Canada said that the agenda resonates with Filipinos abroad, even those who cannot vote. Because of blood relations in the Philippines, whatever happens to Filipinos and friends and relatives in the Philippines, has an impact on the lives of Filipinos based abroad.
"Migrante Canada will continue to have discussions and reach out to our fellow kababayans to raise the issues of overseas Filipinos and Filipinos in general through the electoral agenda by challenging and seeking the commitment of candidates with clear plans and policies," said Martin.
Allies and friends of Migrante International and their global chapters joined in the press event. Among these allies from Canada were MALAYA Movement and KABAYAN Canada.
—————————-
Veronica Silva Cusi is Local Journalism Initiative reporter.