GMA News Online
Trigger warning: This article contains disturbing content some may find upsetting.
IT WAS A FEW MINUTES BEFORE MIDNIGHT and they all sat in silence inside the unmarked van, too stunned to speak. The three-vehicle convoy was parked along the curve of a narrow road under the stillness of an Acacia tree. Only a sliver of moon hung in the sky and it was dark, save for an occasional streak from passing cars and the light spilling from the large cabinet sign of a nearby convenience store. That shop had closed for the night and six people were slumped on the pavement there, two of them sleeping. Their dirty boots, worn trousers, and threadbare long sleeved t-shirts hinted that they were working men, on a break from a late night construction job and sheltering in this oasis of light.
The stakeout had begun an hour and a half before. Colonel Sheila Portento was sitting behind the driver, two-way radio on her lap. Two more undercover agents were beside her, hunched over a laptop, the glow of the screen cold on their faces. They were engaging a middle-aged woman whom they had been tracking for some time, the mother of two young children. She lived in a congested community in the eastern part of Metro Manila, not far from where this convoy of police vehicles was now lined up.

The conversation meandered. The hour grew late. A steady stream of soft rock music played at low volume on the radio. The air conditioning was cool. A policeman in a white operation vest, rifle between his legs, had already fallen asleep, his crew-cropped head bent forward at an awkward angle.

Suddenly, a stabbing, three-tone melody broke the fragile peace. The last note seemed to linger in the air, stirring a deep sense of dread against the silence that followed. The long conversation with the woman had evidently gotten somewhere, because now, she was making a video call.

They turned off the radio. An agent shifted in his seat. Then, without a word or ceremony, there she was, enveloped in a strange blue light, fully revealed. And so was her 10-year old daughter.

"Damn," Portento murmured, finally regaining her composure. She clutched her handheld radio and swiftly gave orders to the team. There was no time to lose.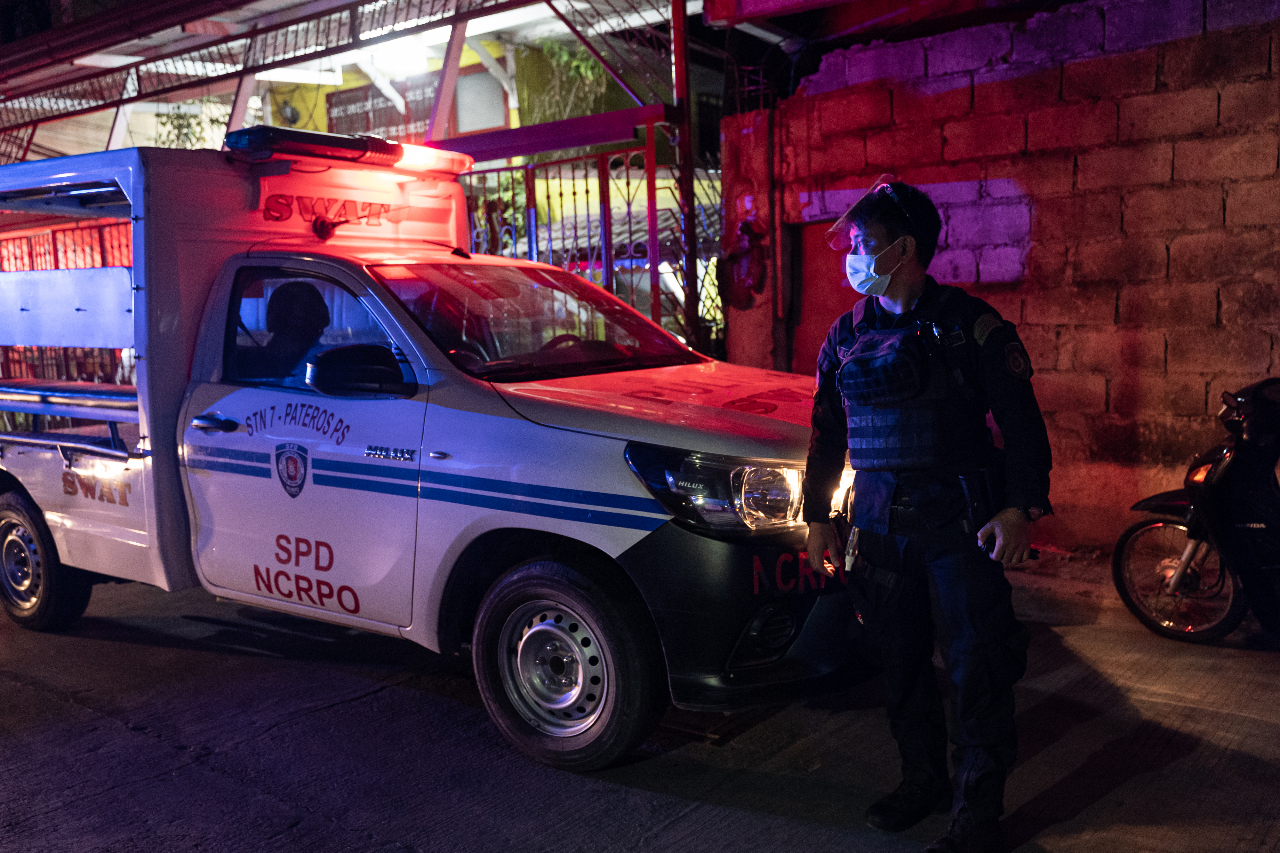 Operation in Pateros to rescue Luz and Grace.
In the darkest corners of cyberspace, a high-stakes game of cat and mouse is playing out away from the public eye. The ever increasing reach and deep anonymity offered by the internet has made it a battleground for a bewildering crime: the Online Sexual Exploitation of Children. OSEC is a rising transnational problem, one that finds the Philippines at its nexus.

Although early data on OSEC cases is scarce, it has been around almost as long as the ascent of Web 2.0, the participatory evolution of the internet that gave rise to social media and user-generated content. In the past two decades, media coverage of OSEC cases, once thought to be confined to the fringes, has been increasing in frequency. Now, it makes the evening news a few times each year, featuring sensational raids and the gut-wrenching rescue of wide-eyed children, some of them no older than infants.

In 2015, an even darker side of OSEC broke into the public consciousness in a big way. Peter Gerard Scully, an Australian national who was living in the Philippines, was arrested in the southern island of Mindanao after months on the run. Scully was suspected of being behind the production and sale of a deeply disturbing video that featured an 18-month old girl, hung upside down by the legs and subjected to rape, abuse, and torture. The footage, dubbed "Daisy's Destruction," achieved legendary status on the dark web before bubbling to the surface and appearing in pockets of the open internet.

The video was an example of an extreme form of abuse called "hurtcore," showcasing the suffering, humiliation and torment of young children in particular. It is filmed in secret, predominantly in developing countries like the Philippines, and sold at a premium to pedophiles around the world. The material attributed to Scully was so depraved that according to some investigators assigned to the case, the images still haunt them to this day.

"I remember standing up [from the computer] and sobbing uncontrollably when I saw it," lawyer Janet Francisco said. "It was as if I could feel the pain of the little girl as horrific things were being done to her."

Francisco now heads the Anti-Human Trafficking Division of the National Bureau of Investigation (NBI-AHTRAD), one of the teams that led an international effort to find Scully and bring him to justice. She says policing the dark web, a hidden collective of websites that is only accessible using special software, is a daunting task.

"In the dark web, you can maintain anonymity and become untraceable," Francisco explained.

Francisco said their first breakthrough in the Scully case came when the Dutch police arrested a man in the Netherlands on charges of child exploitation in 2014. They obtained hurtcore videos from him showing the torture of eight girls by adult females and a white male. The abusers' faces were hidden, but the footage contained an important clue: one of the women spoke in Visayan, a language used in many parts of Central and Southern Philippines.

While the NBI investigated, the incredible courage of two of Scully's young victims also hastened his downfall. Scully had been living in Mindanao since 2011, moving from province to province. In Cagayan De Oro, he met Carme Anne Alvarez, a former victim of child sexual exploitation herself, who Scully groomed to be his girlfriend and accomplice.

On Scully's instigation, Alvarez enticed two street children, cousins aged 10 and 11, into a rented home in the western part of the city. There, the girls were tied up, kept on a leash, molested, and forced to perform sexual acts in front of a camera. They were also made to dig a hole in the basement which they believed would be their own grave.

"I don't even want to say what Scully forced them to do," Police Executive Master Sergeant Maricel Ubaub, one of the officers assigned to the case, said. "It's so vile. Every time they were abused, the girls said they would rush to the bathroom to throw up."

After a week of captivity, the children planned their escape. Whenever Scully and Alvarez left the house, they would lock up the cousins in a room. One day, the girls stuffed some paper into the hole of the door striker, keeping the latch disengaged when the door was pushed closed. Then they sneaked out, scaled a portion of the wall next to a papaya tree, and ran straight to the local market where their parents worked.

Police later arrested Alvarez, but Scully was able to escape.

The sheer cruelty of Scully left an indelible impression on Ubaub, a veteran who has handled many cases of child sexual abuse before. When we met, she wore a large, frumpy-looking police cap with her uniform, which gave her a diligent and affable appearance. She gazed cautiously at the house where it all went down, a silent place with fading white walls and a red, galvanized iron roof. Ubaub, a mother herself, momentarily lost composure, hiding her face behind a case folder.

"I don't show this to the children, but sometimes when I talk to them, I have to take a moment, turn away and cry," Ubaub said, wiping tears from her eyes. "It's really hard."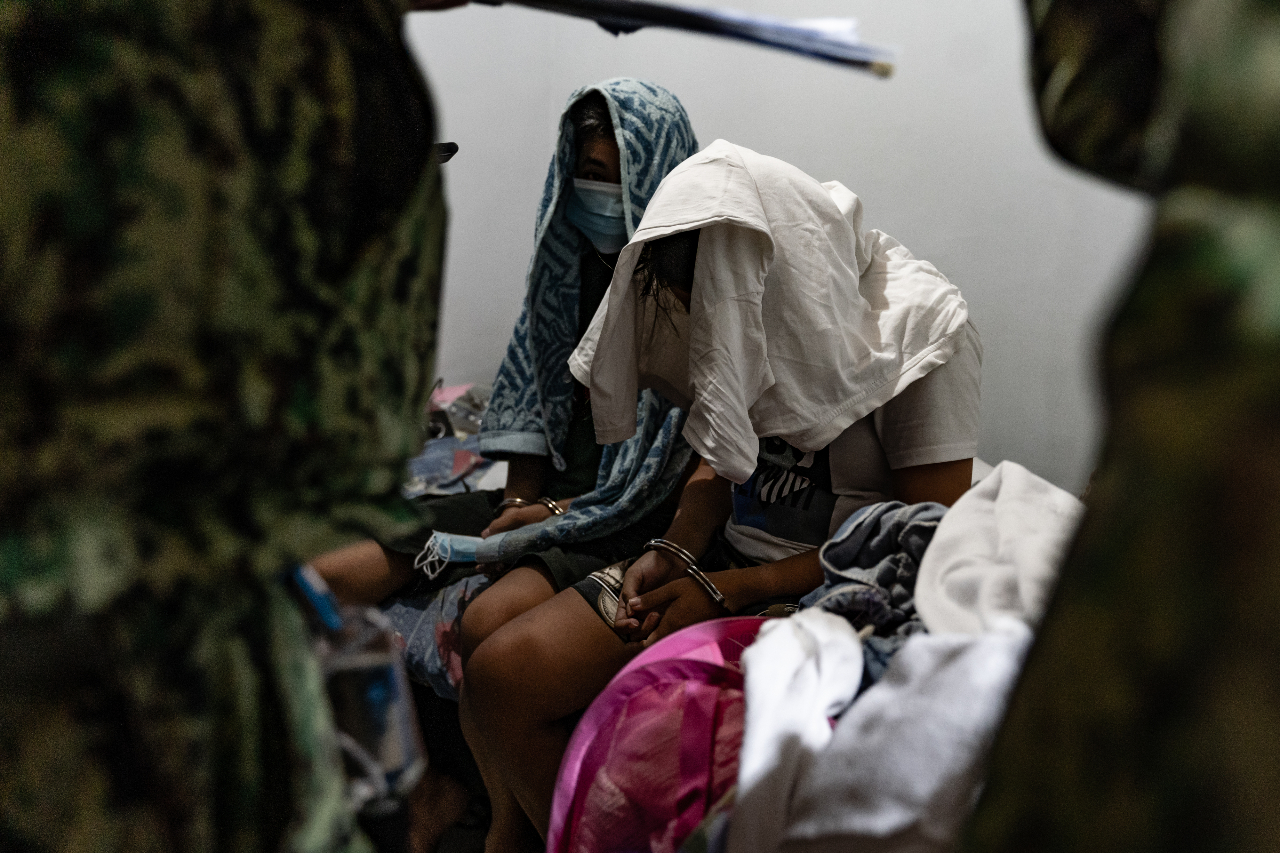 Authorities arrest a mother and her live-in partner for the Online Sexual Exploitation of Children.
Pursuing OSEC violators can be especially difficult because of the involvement of the children's families. In cellphone footage shot in early 2021, Portento and her team from the Philippine National Police Women and Children Protection Center (WCPC) were shown swooping down upon a low-income neighborhood in Southern Metro Manila. Wearing full personal protective equipment due to a COVID surge at the time, she went straight for a 9-month old baby in a crib, swaddled in blankets. Portento cradled the child in her arms and immediately brought her to a waiting van.

As police arrested the child's mother, the woman's expression changed from shock, nervous denial, panic, then finally, despair. She looked on, slack-jawed, while an officer recited her Miranda rights. The scene unfolded in front of a Hello Kitty curtain emblazoned with pink hearts.

In all, nine victims, including seven minors, were rescued from the house. They embraced each other and whimpered in the back of the van.

"As much as possible, the first opportunity that we can rescue the children, we will do it," Portento said. "Because they have no one else to turn to."

Based on a study by the global non-government organization International Justice Mission (IJM) released in 2020, OSEC victims are very young and are abused for a long time. The median age is 11-years old, while the average duration of abuse is 2 years. A majority of the victims, 86%, are girls.

OSEC is considered a family-based crime. A staggering 41% of traffickers are the biological parents of the victim, while 42% are other relatives. This makes it more difficult to detect and prosecute perpetrators. Children frequently do not comprehend the abuse they suffer at the hands of loved ones, much less find the courage or opportunity to report to authorities.

Crucially, even though some OSEC transactions take place over the dark web, the IJM noted that most deals were negotiated on the open internet, reducing the obstacles to effective law enforcement.

Portento takes her job very seriously, almost making it sound like a personal mission. With her neat, side-parted ponytail and square, rimless glasses, the officer gives the impression of a sensitive but undramatic leader.

"I'm also a mother, so I'm very passionate about this job," Portento said. "If there's someone who should protect the children, it should be me. It's sickening that the people who are supposed to be their first layer of protection are actually their abusers."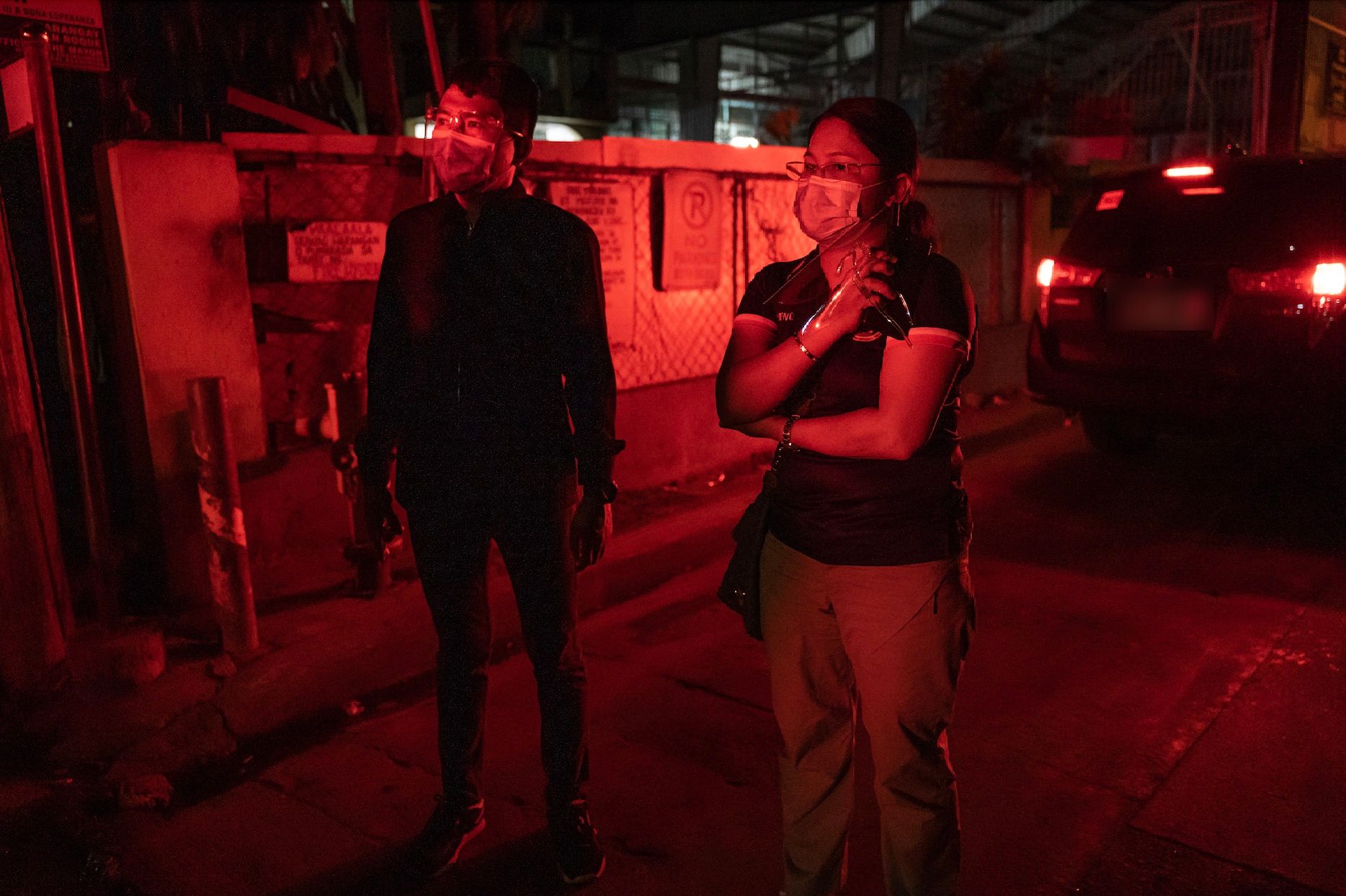 Colonel Sheila Portento and her team from the PNP Women and Children Protection Center after a successful midnight operation in Metro Manila.
To strengthen global policing efforts against OSEC, international and Philippine law enforcement agencies formed the Philippine Internet Crimes Against Children Center in 2019. Among its members are the WCPC, IJM, NBI-AHTRAD, Australian Federal Police, U.K. National Crime Agency, and the National Police of the Netherlands.

Since its inauguration, the Philippines saw a dramatic increase in OSEC crackdowns. Authorities rescued 12 victims in 2015, but in the three years since PICACC's inauguration, the number of individuals rescued per year has risen fourteen-fold.

Indeed, it was information from the Australian police that led Portento's team to the eastern margins of Metro Manila, setting a trap in the dark. When an Australian national was caught for possession of Child Sexual Exploitation Material (CSEM), some of the images were traced back to a woman in the Philippines. The WCPC put her under surveillance, and confirmed that she was using her daughters "Luz," 6-years old, and "Grace," 10-years old, to produce and sell sexually explicit material.

It was now a race against time. The longer the children stay with their mother, the more likely they would be abused again. But the woman had been cautious, hiding her whereabouts and switching online accounts regularly. When the pandemic struck, the investigation ground to a halt. Months went by without contact with the suspect.

Then, after almost two years of trying, authorities caught a break. The woman slipped up, revealing her precise location at last. That very evening, the police hatched an entrapment operation.

Inside the cool, unlit van, an undercover agent engaged the suspect for hours. Soon, she set her price: 2000 pesos (40 USD) for a live show, an amount just shy of four days minimum wage in the city. The officer quickly wired her the money.

"She has to appear on camera, so we can be sure that she's there right now," he explained.

Her call came through. The silence around us deepened. At first, the woman appeared on screen alone.

"I think she just summoned the child," the agent whispered.

She did. A moment later, they were both on camera, exposed, in a cramped space bathed in an odd, almost extraterrestrial blue light.

This was all the evidence the team needed.

"All units proceed now," Portento commanded on the radio.

The convoy moved fast through winding roads. Sirens and emergency lights stayed off. A man on a bicycle sensed the urgency and quickly got out of the way. Then, as we turned a corner, the sliding door of our van flew open, and officers with rifles leapt into action. The one with the crew-cropped hair, now wide-awake, led the way into a narrow alley, which we all entered single file.

Suddenly, somewhere ahead, I heard the panicked screams of a mother.

"No! Don't take my baby!"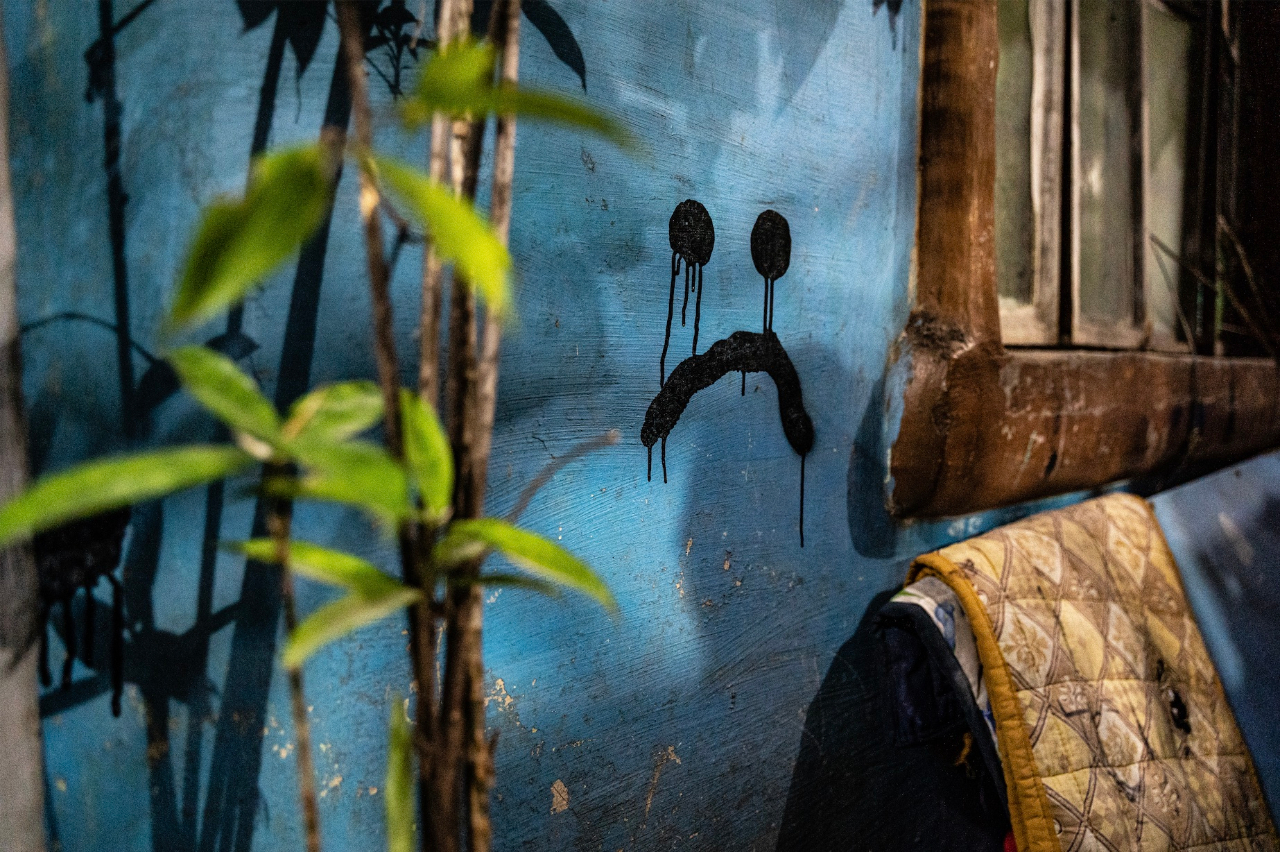 He lay face down on the concrete floor, officers in plain clothes surrounding him. It's 2015, and the NBI has finally caught up with Peter Scully in a rented house in Malaybalay, Bukidnon, a two-hour drive from Cagayan De Oro. He did not resist arrest.

Liezl Margallo, another girlfriend and accomplice of Scully who was intercepted by authorities at a domestic airport, provided the information that led to the capture of the Australian fugitive. A week later, with Margallo's cooperation, agents made another gruesome discovery, this time in Surigao, another city in Mindanao.

In one of their previously rented houses, a 12-year old girl was found folded, stuffed and buried in concrete beneath a white-tiled kitchen floor. She was one of the children featured in Scully's hurtcore videos, raped and tortured by this father of two before being murdered. A forensic team painstakingly gathered her skeletal remains, giving her the care and dignity she was denied in life.

In news footage following his arrest, Scully showed no emotion, and even flashed a tiny smirk as his mugshots were taken. But he lowered his head a little when he spoke with a reporter, and claimed that he was filled with regret for what he had done. "I have done nothing but look into myself and write everything down, day by day, what has influenced this," he said.

Francisco, the agent who hounded Scully and cracked the case, disagreed. "I didn't see any remorse in him," she said. "He didn't even admit to his crimes."

And those crimes were plenty. Scully was charged with several counts of rape with assault, human trafficking, attempted human trafficking, syndicated child pornography, child abuse, and photo and video voyeurism. In all, more than 60 cases were filed against him for the abuse of dozens of children.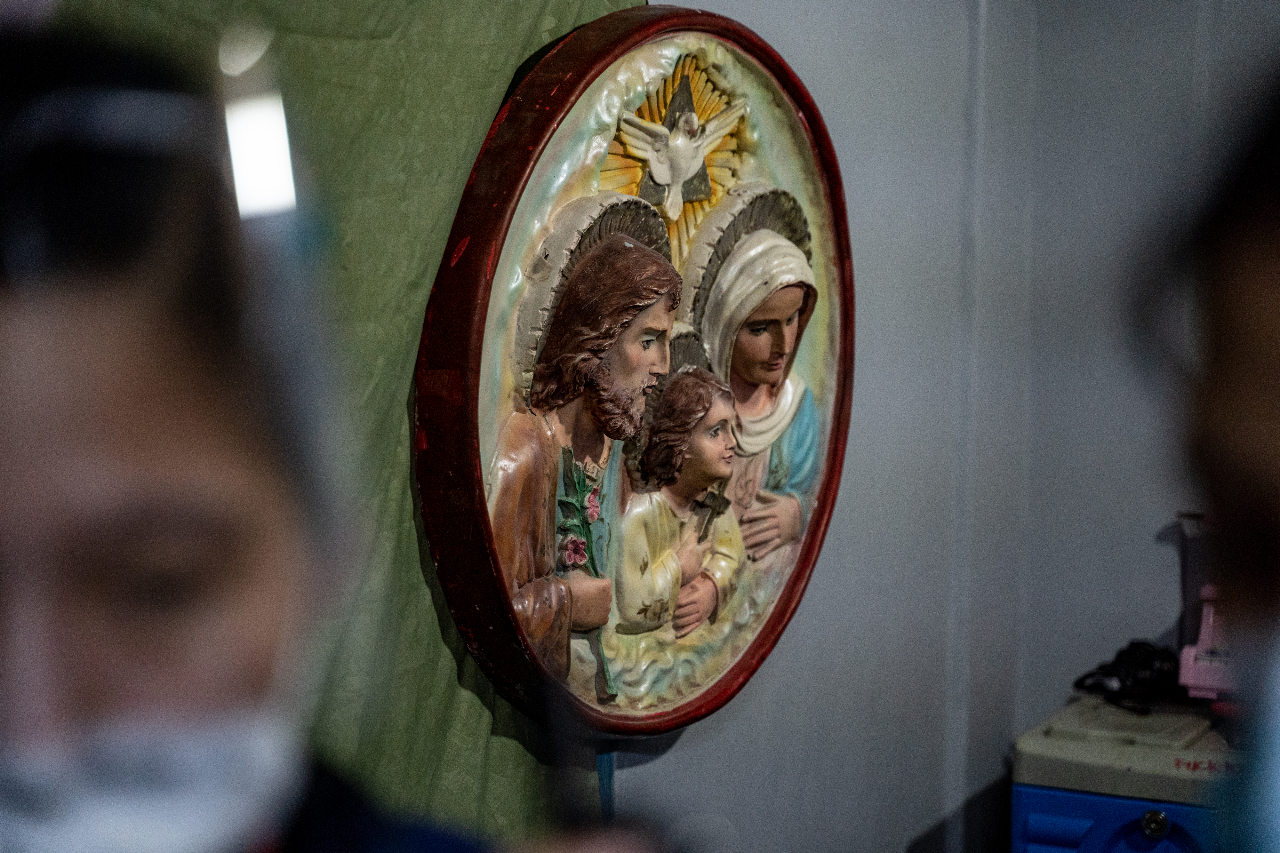 Sadly, OSEC cases in the Philippines have only increased since Scully's arrest in 2015. According to IJM, the number of IP addresses (a unique string of characters that identifies a computer) used for internet-based child sexual exploitation more than tripled between 2014 and 2017. In addition, the country received more than eight times as many OSEC case referrals from international law enforcement agencies compared to other global hotspots.

It's easy to understand why OSEC is prevalent in a nation struggling with perennial poverty. Most victims come from poor families because the desperate are easy prey.

But other factors play a key role too. Advancements in technology have made smartphones and broadband internet more accessible than ever; consequently, OSEC cases that were previously confined to urban communities have also spread to rural ones. Money exchange has also grown simpler as a result of electronic banking, e-wallets, and other digital remittance services.

Because of our English proficiency and position as the social media capital of the world, thanks in part to the outgoing nature of many Filipinos, we are also more vulnerable to foreign predators —simply because we are accessible to them.

Other factors are less established. Atty. Kathleen Piccio, a lawyer for IJM who represents survivors in court, brings up what she calls a "breakdown of morals" in trying to explain the phenomenon.

"Poverty may explain but can never justify these crimes," she said. "There are a lot of poor families, the poorest of the poor in fact, who love their children and could never ever subject them to this kind of abuse."

Meanwhile, authorities in Cagayan De Oro observed a spike in what they call self-generated Child Sexual Exploitation Material. As more minors use the internet, more become exposed to sexual grooming and other forms of online exploitation. Digital pimps, some of them underaged themselves, are luring children to take sexually explicit images to sell online.

Worse, in some cases, the incentive seems to extend beyond the demands of survival. Today, there is growing pressure on children to project a certain affluence, a hyper materialistic lifestyle often depicted in the social media they consume.

"We observed this for children around 12 years old and above, they already know what they're doing, what this is all about," social worker Honey Jane Tulang said. "Some of the minors we interviewed said they're saving up to buy the latest cellphone or handbag. And they think it doesn't harm them, because it's just nude pictures anyway."

Certainly, these aren't just nude pictures. Children struggle to grasp the long term social and pathogenic consequences of generating and selling explicit sexual content. There is plenty of evidence that sexualized relationships between adults and children are always one-sided, exploitative, and wounding. We've known this for a long time too. In the 1933 paper "Confusion of Tongues Between Adults and the Child—The Language of Tenderness and of Passion," Hungarian psychoanalyst Sándor Ferenczi warned that children's "personalities are not sufficiently consolidated in order to be able to protest." He explains that they will "subordinate themselves like automata," and become "completely oblivious" to their needs, and ultimately "identify themselves with the aggressor."

This is one of the reasons why the term "child pornography," even though it is more familiar to the lay public and is still used in legal settings, has fallen out of favor with child rights advocates. Pornography is allowed in some countries and is open to consenting adults. But minors are simply incapable of granting true consent in these situations. Thus, referring to CSEM as pornography can make the crime seem less harmful to children.

"We try to tell them that it's not ok, because these images would live forever on the internet," Tulang said. "But it doesn't seem to deter them, because it seems so rewarding."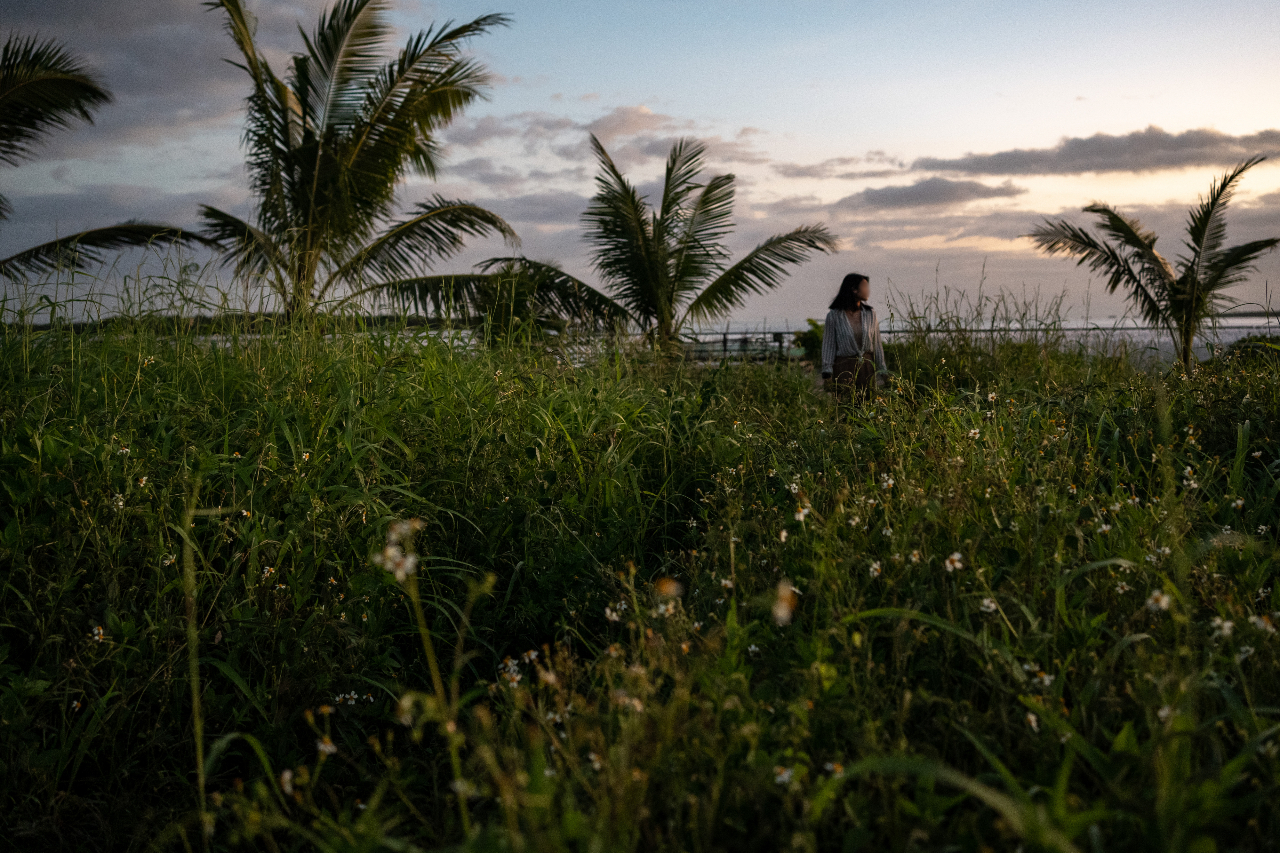 An OSEC survivor in Cebu.
For many OSEC victims, it is the anguish of being abused by those dearest to them that will haunt them for the rest of their life.

We arrived at a squat, concrete house a little past midnight. A solitary palmera grew in a planter against the outside wall, while a jumble of rubber flip-flops surrounded the main door, two pairs conspicuously tiny. A few blocks away, a barking dog protested the hour.

The agents entered without knocking. One officer immediately carried Luz, who started to cry hysterically. They went outside and disappeared into the alley. Meanwhile, the older Grace got dressed. Social workers enshrouded her head with a large, colorful scarf and began to lead her to the door. But she stopped midway, and in the melodic, rising inflection of a child, asked about her mother and sister.

"Can mama come with me?" She pleaded. "Where is my sister?"

Your mama is just putting on some clothes, an officer assured her, wear your slippers. Then they led her out into the night as well.

I came up two steps and entered a cramped space lit by a harsh, LED bulb overhead. The officers had begun collecting evidence. Laid out on a pink, faux leather sofa were four cell phones, a laptop, an instant camera, and a sex toy. The rice cooker had been used recently, its transparent lid still opaque with condensing steam. A framed picture of the woman, her partner, and her two kids smiling on the beach was propped up on a stack of plastic shoe boxes.

This was a home. But one corner of it was reserved for something sinister. Inside the bathroom, a special bulb had been fixed in one of two light sockets. It now glowed a familiar shade of blue. Here, where they showered, washed their clothes, and brushed their teeth, the woman allegedly trafficked her children.

I stepped into the last room separated by a flimsy curtain, where the mom and her partner sat handcuffed on the edge of the bed, heads down and faces covered. I knelt down beside them. "What happened here?" I asked. "We were just hanging around," the woman said softly. "How did this happen?" I tried again. They had nothing more to say. The woman began to sob.

It was a major accomplishment for Portento and her team, but at that moment, one couldn't tell by their expressions. "[I have] mixed emotions," Portento explained. "I'm sad that we're taking the children away from their mother. But I'm also happy with the positive result."

As her agents mopped up, Portento stood to one side of the room and seemed to make herself as small as she could.

"Hearing the children cry like that, that's what haunts me at night," she said. "I know I need to rescue them, but at this point I can't make them understand that this is what's best for them."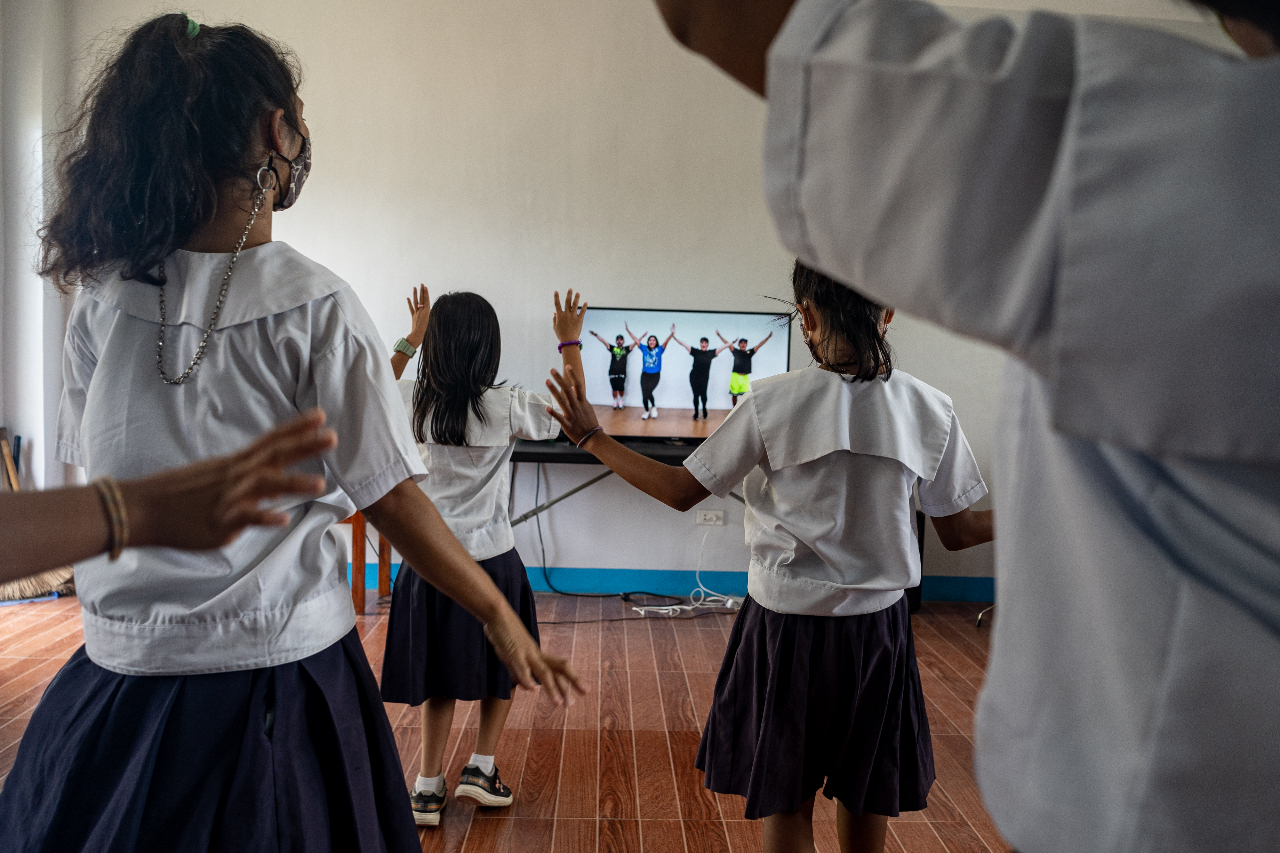 Rancho ni Cristo in Cebu is one of the few OSEC-specific shelters in the country.
Rescuing children from harm is only the first step in what can be a long road to recovery. Because relatives are frequently to blame for their abuse, OSEC survivors must be separated from them in the meantime. Children need a safe place and a compassionate environment while they work through conflicting and difficult emotions in the wake of their trauma.

In the province of Cebu in Central Philippines, another OSEC hotspot in the country, one organization focuses on the aftercare of survivors. CURE Foundation operates a shelter called Rancho ni Cristo in a rural and relatively secluded area of the province. The facility, which sits on top of a hill surrounded by nature, houses over thirty girls at any given time. Here, they live, play, study, and attend regular counseling sessions with professionals.

"We designed this place to be a home away from home, or be a home if you've never experienced what home feels like," Bart Van Oost, Managing Director of CURE, explained. "Because of their backgrounds, some of [these children] have never been in a loving family."

Van Oost, a Dutch national, moved to Cebu with his Filipino-American wife Jolene in 2015. He left a successful banking career in Belgium to work full-time with the organization after being struck by the plight of disadvantaged children here. "I just wanted to do more than send a regular check," Van Oost said. Today, Rancho is one of the few OSEC-specific shelters in the country.

The specialization is helpful because of the unique burden of OSEC survivors, whom the Foundation refers to as their "clients." One of them is "Precious," an amiable 14-year old who loves to dance. I met her in their Zumba class, moving with playful abandon to a K-Pop ditty. Her laughter carried through the room. It may have looked effortless then, but this was a hard fought happiness. Because beneath her sunny exterior lay a harrowing story of abuse.

Precious' father died when she was very young, leaving their family struggling to survive. Soon, she noticed that her mother was secretly taking pictures of her, often in sexually suggestive situations. She later learned that the photos were being sent to a boyfriend abroad.

Confused and terrified, the girl said nothing. But when the boyfriend eventually visited the Philippines, her own mother lured Precious to a hotel where the man was staying. There, curled up in bed, she was sexually assaulted. The girl hit rock bottom. She mustered the courage to ask help from a friend, who then alerted the authorities.

We now sat side by side, facing opposite directions on a playground swing. Although soft-spoken, Precious expressed herself in a clear and earnest manner, as if she felt a duty to share her story to the world. She punctuated many of her sentences with a bright smile that made her eyes disappear into squints.

"I'm happy here. They've helped us a lot, mentally and spiritually," Precious said. "I feel a sense of inner peace."

The girl is not here to hide from the world, however. She couldn't, even if she wanted to. Precious' mother is now in jail, facing multiple cases. And Precious is testifying against her. "I'm not doing this because I hate her." Precious said. "I've already forgiven my mother, but justice must be served, for me and for her."

Van Oost acknowledged that pursuing justice can be tremendously difficult for survivors because of a love that often remains between the children and their abusers. "It's very challenging, because no matter what, it's still their family involved," Van Oost explained. "Most [children] say that yes, what my family member did was wrong, but I also have a lot of good memories with them. So it's not black and white."

Beyond justice, the essential goal of survivors is to return to society happy, healthy, and ready to live the rest of their lives to the fullest. To this end, the Foundation focuses on giving their clients a good education, a base from which to pursue careers later in life. Although children must remain in the shelter while they heal and recover, they also plan regular visits to trusted relatives in their hometowns whenever possible. This way, a loving family will be waiting for them when they ultimately leave the facility.

"Most of them have lots of potential," Van Oost said. "We try to teach them to dream and believe."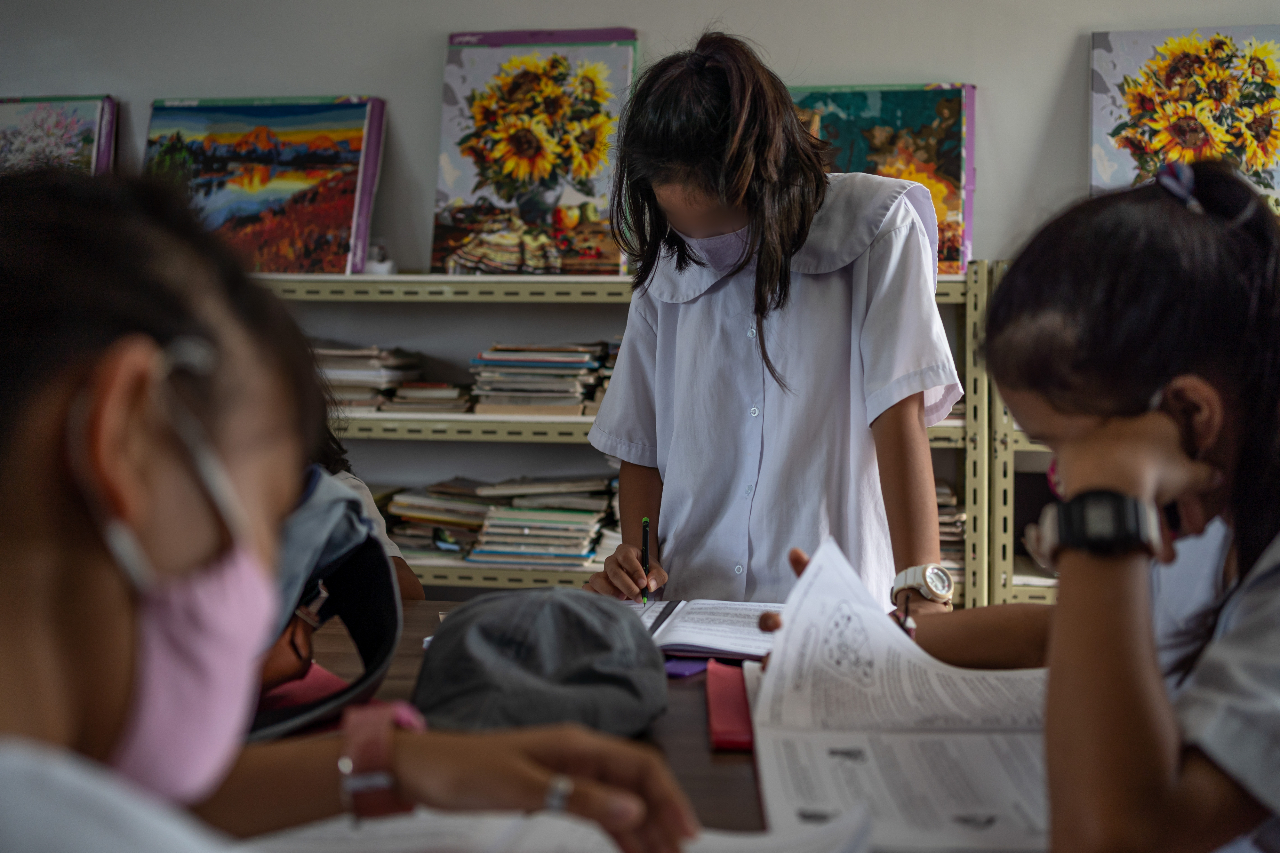 Precious in class.
In November 2022, Scully was convicted and sentenced to 129 years in prison for an avalanche of human trafficking, rape, and child abuse cases. This was on top of the life sentence he received in a previous conviction in 2018. Alvarez and Margallo, his accomplices, are also serving life terms for their roles in the crimes.

Meanwhile, social workers say that Luz and Grace are doing well in foster care two years after their rescue. The younger Luz seems to have a talent for words, winning a slogan-making contest in class. Grace, her protective big sister, is ranked second in her batch in math. The case against their mother and live-in partner continues.

When we met a year ago, Precious said she was not ready to leave their beloved shelter on a hill in Cebu, a place she considers home. Nevertheless, the girl already had big dreams for the future.

"I want to be a lawyer," she said sheepishly. "I want to defend children with the same experience as me."

It's a bittersweet sentiment. Here was a 14-year old girl who went through unspeakable trauma, and now, barely recovered, is already thinking of helping others like her. And there are still others like her out there: frightened, distraught, and desperately searching for answers.

Precious had something to say to them.

"There are people who will help," she said. "It will get better."

Her eyes disappeared when she smiled.