By Tony A. San Juan,
OCT-Retired
Five determined and dedicated candidates of Filipino heritage are running for Members of Parliament in Canada's House of Commons. For the first time in the Filipino diaspora, four Filipino Canadian women and one Pinoy male have entered the national political arena in the September 20, 2021 federal election. Of the five, three are MP candidates from Ontario, and the other two are from British Columbia.
The "Magnificent 5" are Rechie Valdez, Elizabeth Quinto, and Phil De Luna of Ontario, and Virginia Austria-Bremner and Naden Abenes of British Columbia.
Rechie Valdez becomes the third Filipino Canadian woman to be acclaimed by the Liberal Party of Canada as official candidate for Member of Parliament. Earlier, the other two proclaimed Liberal MP Candidates are Elizabeth Rosaldo Quinto for Oxford County (Ontario), and Virginia Austria-Bremner for Vancouver-Kingsway (B.C.).
Naden Abenes, a Pinay labour union organizer and activist was also acclaimed by her party, the New Democratic Party, to run for Member of Parliament for Vancouver Quadra, B.C.
Dr. Phil De Luna, a young Filipino male scientist, is the Green Party's MP candidate for Toronto Centre-St. Paul's, Ontario.
The three Liberal MP women candidates, namely R. Valdez, E. Quinto, and V. Bremner, are strongly endorsed by "Team Trudeau as champions for a better future" in Canada. Any of the five could become the second Filipino Canadian and the first Filipina among the four Pinays, to be elected Member of Parliament since the election of Filipino Canadian Liberal MP Rey Pagtakhan more than 22 years ago.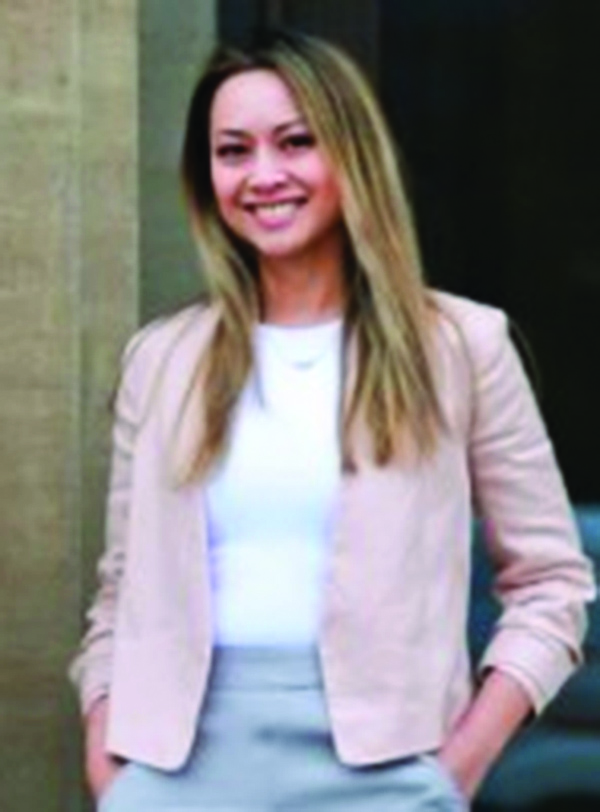 Rechie Valdez – Liberal MPcandidate For Mississauga-Streetsville (Ontario)
Richie Valdez was acclaimed last August 15 to be the official candidate for Member of Parliament for Mississauga-Streetsville, Ontario. R. Valdez is a dedicated community leader and has had 15 years of corporate banking experience with cross-enterprise expertise in project management, change management and transitioned into a serial creative entrepreneur, and published baker. Valdez professed that she became a "baker + podcaster + non-profit executive + apparel marketer + basketball newbie in a few short years… just before turning 40". She is the Vice President of Marketing and Creative Head of multiple brands that span the print, marketing, apparel, food, and sports industry. In the past five years, her creative drive and ambition have enabled her to venture out of the corporate world to explore entrepreneurship and philanthropy. She co-founded Filipino Fusion Cafe and is also the owner of Chietopia Bakery, a specialty pastry maker in Mississauga. A sports enthusiast and fundraiser, she has been supporting girls and women in various sports. She is a graduate of BCS Computer Science from the University of Windsor in 2003 and has completed the Leadership Development Program at BMO Institute for Learning in 2016. A mother of two, Rechie "wants to make Mississauga—Streetsville more affordable for families and is ready to continue her community service alongside Justin Trudeau and the Liberal team".
Elizabeth R. Quinto, a practicing solicitor-barrister and notary public in Ontario and the USA -licensed lawyer, has been acclaimed as the official Member of Parliament for Oxford County candidate by the Liberal Party of Canada on July 27, 2021. Quinto earned a B.A. in Political Science from the University of Waterloo, and a J.D. from Western Michigan University. She has been serving her community and the most vulnerable as a family law lawyer for the past decade. Her legal career has brought her to strongly "believe in ensuring a safe and environmentally conscious future for our children and grandchildren." At 38 years old, and a proud Catholic, Liz is a proud member of the LGBTQ21A+ community and likes spending time with her two dogs, playing the bass, and snowboarding. She is passionate about seeing more diverse representation in the House of Commons and is "committed to advocating for families, small businesses, human rights, affordable housing, and real action against the climate crisis." Quinto wants to be a Member of Parliament that her community can count on through civic engagement, proper advocacy in the House of Commons, and the needs of the Oxford community are her top priority. She strongly advocates that "Filipino-Canadians need a voice in Parliament and women need a continued voice" in the House of Commons.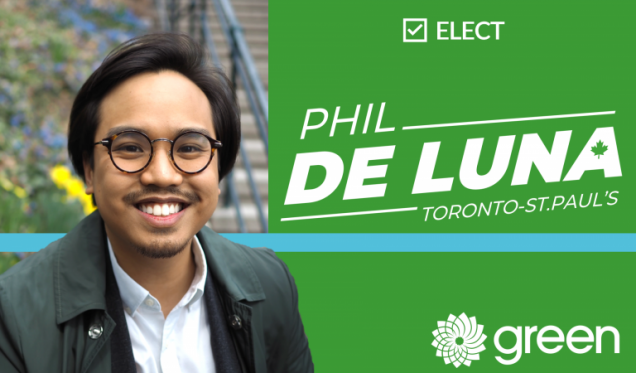 Phil De Luna- Green Party MP candidate for Toronto-St. Paul's (Ontario)
Phil De Luna, is the declared Green Party MP Candidate for Toronto Centre-St. Paul's. De Luna has a Doctor of Philosophy degree in Materials Science and Engineering from the University of Toronto, a Master of Science in Chemistry from the University of Ottawa, and BSc. Honours Chemistry from the University of Windsor. As a young scientist and cleantech entrepreneur, he is currently on leave as Program Director at the National Research Council of Canada (NRC). De Luna is focused on three main issues: 1) supporting our essential workers, 2) housing affordability, and 3) green jobs that leave no one behind. He says, "I'm running because we must move faster to combat the threat of climate change and sustainably renew our society and economy. I'm running because we need more diversity in parliament and more science in policy. I'm running because I want to lower the barriers for other non-traditional candidates to consider running because a diverse government is a robust and resilient one." He was born in Taiwan to Filipino parents and grew up in Windsor, Ontario.
Virginia Austria-Bremner was likewise acclaimed on July 20, 2021, by the Liberal Party of Canada as the official candidate for Member of Parliament (MP) for Vancouver Kingsway (B.C.). Austria-Bremner came to Vancouver from the Philippines at the young age of seven, following the tragic loss of her father. She was raised together with her nine other siblings by her single mother, "Nanay". In Vancouver Kingsway, Virginia attended Grenfell Elementary, then Windermere Secondary before graduating from Killarney Secondary School. She is married and has two sons in their early 20s. Virginia's career has been "guided by a sense of purpose and a drive to contribute to her community" even before running for the Liberal Party. She started her work on the frontlines with those facing mental health challenges in a community-based outreach centre. She was Executive Director of the Downtown New Westminster Business Improvement Association and has provided administrative support to Christy Clark, the then Premier of British Columbia. Most recently, she worked for the Greater Vancouver Board of Trade and World Trade Centre Vancouver as the program coordinator helping local businesses create trade and investment connections with international priority markets. She plans to go to Ottawa to make life better for her community and to represent Vancouver Kingsway proudly.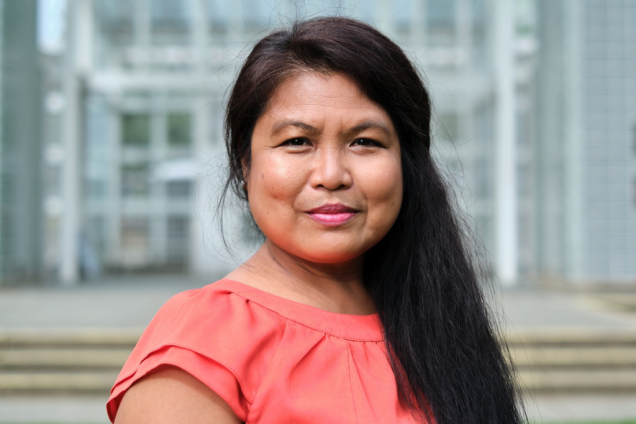 Naden Abenes – NDP MP candidate for V
ancouver Quadra (B.C.)
Naden Abenes is running as an MP candidate under the New Democratic Party(NDP). Abenes hopes to become the Member of Parliament for Vancouver Quadra in British Columbia. Naden was born in the Philippines, immigrated to Vancouver in 1979, and raised two children as a single mom while working two jobs. A seasoned union worker, activist, and advocate, Abenes worked for 12 years for Vancouver's Hyatt Hotel as a room attendant and is now a union organizer for Unite Here Local 40. Acclaimed by the NDP, she will run against Dr. Hedy Fry, the longest-serving Liberal Member of Parliament. For almost 20 years, Naden has fought for respect and better job security that have changed working people's lives for the better. She stands for affordable housing and reconciliation. Naden Abenes says, "I'm running because I want to represent the working class in this riding who, like me, has been suffering especially during this pandemic". While others have read about the changes we need, I have lived them, she added.
The proud "Candidato Cinco", together with their "partidos", pledged that they "will aspire and pursue building with hard work to keep Canada moving forward and growing with a strong focus on significant changes and developments for all Canadians. Thus, the voters are urged to elect even more talented, diverse, and hardworking community leaders especially from racialized minorities as MPs from coast to coast
Across Canada, the Filipino Canadian communities are characteristically hopeful that all the four Pinays and one Pinoy MP candidate will win. The 5 Filipino Canadian candidates are identified and seen not only as being our kababayans (compatriots), but are also distinctively young, articulate, dedicated, well-qualified, and strong leaders who can stand up, and therefore, reasonably deserve our support and our vote more than ever to represent our voice and our interests in the Canadian Parliament. They represent our future! Get out and vote! (from The Philippine Reporter online, Canada, September 10, 2021)